OUR Scholarship
Testimonials from past scholars
iHR makes good arrangements and planning for the students. iHR helps a lot in making sure that the students arrive in Singapore safe and sound, and also helps to set the parents at ease as the students are in good hands.
It has been a really wonderful experience to work with iHR team in this scholarship programme. This team is so professional and caring to all of us. Before we came to Singapore, iHR team helped us a lot by checking our documents, booking our flight ticket, and arranged everything nicely for us. I believe that there were more things done behind the scenes. I really appreciate it! Now, ANS meeting for every semester is my favourite thing to look forward to, as it feels like a big family meeting! Through this, we got to know our overall study progress, how we should improve, and we are always updated with the latest information and activities.
With help from iHR team, I was able to apply for ANS very smoothly. They provided me with sufficient time and information, which helped me to prepare to pursue my career as a nurse in Singapore. I really appreciate their help along the journey before coming to Singapore. I also remember having a Chinese New Year dinner session in my previous hostel in Jurong. It made me feel so touched that the iHR team members still remember me after such a long period of time. They even took photos with me and gave me a sense of belonging. Most importantly, they are very friendly as they always kept in touch with us even after a long time. When we meet, they can still recognise us which showed me that they really do care for us. Through the student leaders, they continued to keep in touch with us and were willing to continue to help those of us with difficulty. This really showed us their professionalism.
If not for the iHR team, I would never have known there was such a thing as the ANS programme. It has been very helpful for me to pursue my career in Nursing. I am grateful for the opportunity to be able to study for this course in Singapore, as it has opened many doors for me.
One of my favourite parts during the scholarship programme was when iHR organised a makan session with nurses working in Changi General Hospital and National University Hospital. This experience allowed me to ask the nurses questions that I had about working as a nurse in Singapore, and to get answers that I couldn't get elsewhere. I learned a lot from this. Thank you iHR for creating this opportunity for me!
My experience with iHR has been wonderful! They took care of all the documents and administration that I needed to obtain for the scholarship, making it a seamless experience for me. iHR team is very professional. At all times when I had some enquiries, they were able to help me and responded in a speedily manner. Thank you!
Before I come to Singapore, iHR handle all my documents well and kept everything smooth and to make sure I can do well in my interview. They provide is important interview tips and encouragement which gave me confidence that I will achieve what I dreamed of. After I came to Singapore, iHR tried their very best to make me feel comfortable and reduced my homesickness as well as they could. Thank you iHR for making my study aboard experience wonderful and memorable!
Aspiring individuals ready to make a change are invited to develop their nursing career in Singapore through the Asian Nursing Scholarship (ANS).
Successful applicants will have the opportunity to pursue a Nursing Diploma and work in one of the Singapore's public healthcare institutions.
Scholar will enjoy the following benefits:
Full course fee and Tuition Grant for 3 years Diploma
Accommodation for the 1st and 2nd year in Singapore is provided
Monthly allowance for three year of study (1st and 2nd year SGD720, 3rd year SDG750)
Monthly housing allowance SDG500 for 3rd year in Singapore
One-way air ticket/transport reimbursement for the commencement of the course
Medical and hospitalization benefits
One-time settling-in and study allowance of SGD 1,700 ($500 will disburse to the scholars on the date of arrival, remaining $1,200 will be within 1 month of arrival)
Full course fee and Tuition Grant for 3 years Diploma
Return air ticket after completion of the course and before commencement of work
Note: All amounts stated above are subjected to revision
Minimum Entry Requirements
SPM / UEC/ GCE O Level / IGCSE
Both Art and Science stream students are welcome to apply
Minimum 5 credits (English, Mathematics, any Science subject and 2 other core subjects)
Students taking SPM Examination in current year  may apply with their current year SPM Trial Exam Results
The 7 Stages of Scholarship Application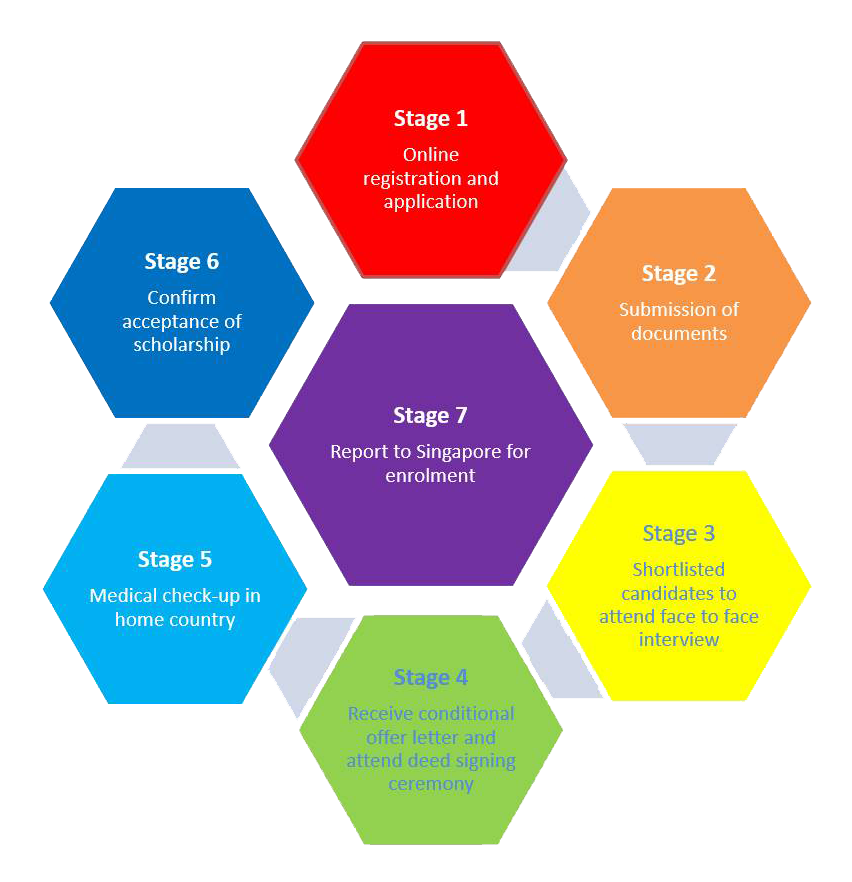 Application Closing Date: –
**Intake: April  (once a year intake)
Comments are closed.